Summer is here! I'm writing this in June, when it's literally spent the last month hammering it down with rain! BUT the sun is finally shining and the weather apps are looking positive, so I am hoping for a glorious summer wedding season! The most popular season for many things, weddings being one of them! It's every wedding couple's wish to have sun on their wedding day, so their summer wedding photos have glorious sunshine throughout, topped with stunning golden hour shots. The summer also has the benefit of being able to offer an amazing array of different flowers for your florist to use, along with an incredibly varied colour palette. so we thought we would give you some summer wedding décor inspiration from some of the BEST florists and décor specialists in the UK, to really get us in the summer wedding mood!
Decided on winter instead? Check out winter colour schemes here
Sunflowers for beautiful summer decor
Image/Florist: Amie Bone – https://www.instagram.com/p/CNX_I2zB9rA/
What do you think of when you see a sunflower? For me it is summer! So of course they had to make an appearance on my summer wedding inspo….also one of my favourite flowers! But not necessarily one you see very often at a wedding! Bringing a feel of the outdoors, sunflowers are generally kept in the garden, so work perfectly if you are looking for garden vibes. The bright colour of the petals just oozes summer – these beautiful flowers replicate the sun (hence the name!), so there will definitely be sun at your wedding, whether the one in the sky decides to make an appearance or not!
Oranges make the perfect summer wedding
Left: Hidden Garden Flowers – https://www.instagram.com/p/CB6g5xWpiRu/
Right: Amie Bone https://www.instagram.com/p/COqYrZbhcqm/
When your thinking of ideas for your wedding flowers and décor, I very much doubt that oranges would spring to mind….they're for the fruit bowl right?! Hell no…Amie Bone showcases here that they should definitely be on the agenda for any summer wedding décor! Especially if you are looking for Mediterranean, Italian vibes.
Pastel summer wedding palettes
Left: Wildabout – https://www.instagram.com/p/CN7xgOwpT3C/
Right: Larry Walshe – https://www.instagram.com/p/COnwrVbhUHr/
Such beautiful colour palettes for any season, but are still as popular as the bright colour palettes for a summer wedding. A pastel colour palette will bring a fresh feeling to your décor. Crisp and clean is what we love! Pastels and light colour tones such as whites, creams, pale greys, are also great to use if your venue has a strong colour scheme within the space too, so there is no colour clashing. If you are particularly looking for a romantic and elegant feel to your day, then a pastel palette will work beautifully.
Trees for summer wedding decor
Left: The Blossom Comp – https://www.instagram.com/p/COKatZlhqLQ/
Right: Emma Soulsby – https://www.instagram.com/p/CPU03YgB5MR/
Trees are for outside in the woods right?! Nope not anymore! Of course, your florist won't be digging up an old oak from the local park, these trees are artificial and can be hired by your décor company or florist. Just make sure to opt for a quality company such as the companies we have tagged in this blog today to make sure that you are getting a good product that you cannot tell is artificial. Many florists will also add fresh flowers, foliage or moss to the tree and at the base for that fresh flower smell and beauty.
All White Summer Wedding
Left: Blooming Haus – https://www.instagram.com/p/CNc_M4Snzs0/
Right: The Blossom Comp – https://www.instagram.com/p/CO9rMAkBYp0/
Following on from the pastel colour palette inspo, an all white palette can look classy, chic and FRESH! I'm talking an all white wedding, no extra colours or shades. You may think, but will this look basic, but it actually brings a huge wow factor to the day and an extremely contemporary look when done right within the right space. You could also team with use of acrylic – chairs, stationery etc. Crisp white linen, all white fresh flowers, and a fully white iced tiered cake. You need to make sure you have a wedding planner or manager with a good eye who will make sure that none of the linen etc has any marks as they will show, but the final look will be amazing and so worth it.
Not sure if you want a summer or winter wedding? We can help here
English Summer Garden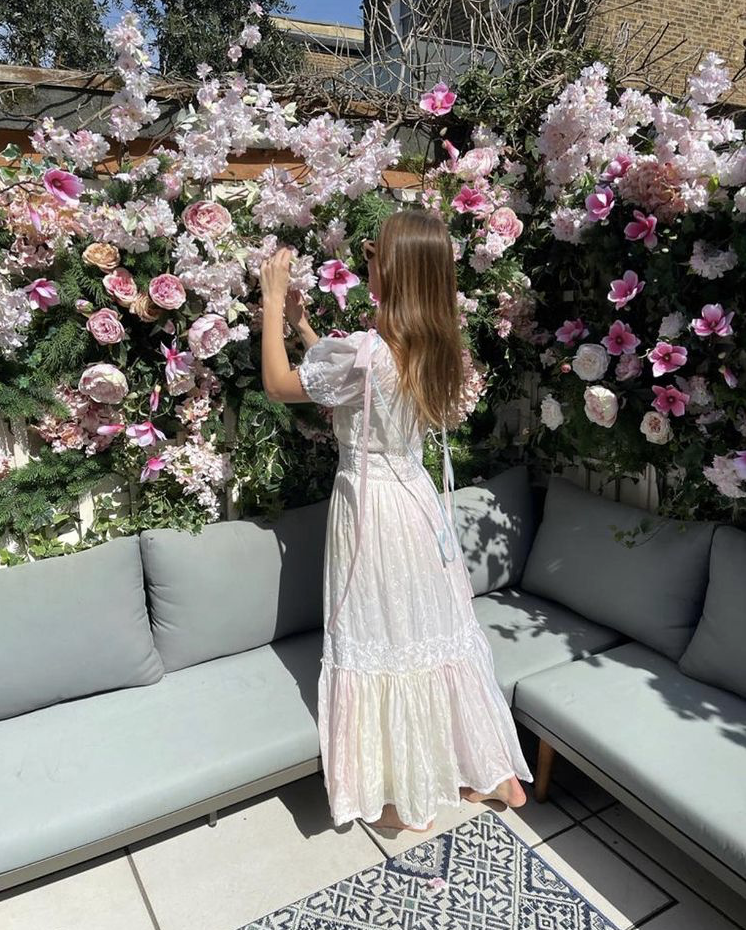 Left: Early Hours – https://www.instagram.com/p/COIB6q9hUoG/
Right: Paula Rooney – https://www.instagram.com/p/CEEYSUHHP2M/
Getting married in a venue with stunning gardens? Bring the outside in with a stunning colour palette including an array of greens and whites, and your favourite garden flowers. If you want a real wow factor, then this is a look for you! Your guests will walk into the room, thinking they are still sat in the gardens! Alternatively, if your venue doesn't have gardens, maybe a city centre location, this could be the perfect opportunity to bring this to the venue without having to escape to the country.
Vibrant Colours
Left: Emma Soulsby – https://www.instagram.com/p/CMjaoEeB8Zy/
Right: Wild About Flowers – https://www.instagram.com/p/BkTOYEQDkHF/
True summer bright beautiful colours. Over the top? Never! These colour palettes will just scream summer wedding as soon as you walk into the space. Team pinks, oranges, yellows or an array of blues and greens, or just go for the full rainbow!
Roses
Left: Karen Tran – https://www.instagram.com/p/COdDuxxDU1Y/
Right: Wild Renata Flowers – https://www.instagram.com/p/CPNkQTeN3Re/
Being a rose myself, of course these are one of my favourite flowers! Not only are they such a classic flower, but there are so many different types and colours to work with, and the summer season is the perfect time for them to bloom! As these examples show, roses hold their own – they look just perfect even if your displays are just full of roses. They bring a real classic, royal feel to your décor.
Lemons
Image: More Production – https://www.instagram.com/p/CFpf0pfhUec/
We've had oranges….now we have to show you lemons! Another fruit you find on your plate or in your drink but words fantastically in your décor, again, bringing a very Mediterranean vibe! Go real, go artificial, either way, they really bring a wow factor to any wedding! When life gives you lemons and all that…
Foliage
Image: Bloomfields – https://www.instagram.com/p/COdswJ-BTao/
Keep it simple, keep it fresh, OR go big…..foliage can be used to just add a touch of décor but to still loo beautiful, or it can be used to bulk out big displays, either way, it looks and smells amazing, plus you can keep some at the end to dry out at home in vase displays! If you are looking for a whimsical, wild, garden feel then foliage is the way to go and Hayley at Bloomfields is the queen of foliage and loose floral styling to create these vibes!
Wild Flowers
Left: Rachel Clingen https://www.instagram.com/p/B-mebcnDQKX/
Right: Bloomologie https://www.instagram.com/p/CL-H9HeBq1L/
Following on from the use of foliage, wild flowers will equally bring a whimsical, wild, garden feel, but at the same time you then get to use beautiful flowers of your choice, and bring your colour palette into your floral décor. We are talking poppies, bluebells, daisies, Lilly of the valley – everything you could find in a field or your back garden! Again, this doesn't mean you need to have an outdoor style venue. You could have a hotel in the centre of London and still go for wildflower décor to bring that outdoorsy vibe, as well as just look summer relaxed and beautiful!
Monstera (Cheese Plant)
One of my fave house plants…I just LOVE them and have two in my house of course! It's the shape and definition of the leaves, and of course the fact I love cheese! But as well as being popular houseplants, you can also incorporate them into wedding décor, just as many people have into their house décor, bringing a tropical, beach vibe to your day.
Pampas
Image: Bloomologie – https://www.instagram.com/p/COPjUgTBCeA/
Another popular, dry option which will last in your house forever after your Wedding day! Popular for décor back in the 70s, it's become back into trend in the last couple of years in house interiors and for weddings. Looks great with foliage and you can also add popular flowers such as roses and peonies if you would a more contemporary look. Also looks great if you like the idea of the all white or pastel options we spoke about earlier.
Need further help with your summer wedding planning? Here's 7 things you need to think about when planning your summer wedding.
Has this blog given you the boost to start planning your summer wedding decor and florals? Get in touch, whether you need help with full planning or a one off 1-1 to discuss ideas, colour palettes, decor inspo etc. You can contact me here!